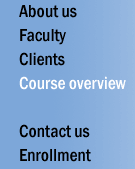 Four Day Correspondence Course:
We are pleased to announce that we have joined with Senior Living University and now offer the first correspondence course for Assisted Living Administrator certification in New Jersey. This program consists of a home study of Senior Living University's National Assisted Living Administrator Certification Program coupled with ALTA's four-day course covering New Jersey specific assisted living requirements. Please contact ALTA at (201) 689-7996 to purchase SLU manuals and register for the four day classroom training. Upon completion of the four-day course, you will be eligible to sit for the New Jersey Assisted Living Administrator's examination. The course fee is $1600 per person. We are now accepting credit cards for the course fee.
The following is a list of dates and locations for our four-day correspondence course:
2018

January 13, 14, 20, 21 - Cadbury at Cherry Hill, NJ
March 3, 4, 10, 11 - Brandywine Living at Moorestown, NJ
June 12, 13, 14, 15 - Seashore Gardens Living Center at Galloway Twp, NJ
September 15, 16, 22, 23 - Brandywine Living at Voorhees, NJ
October 30, 31 & November 1, 2 - Van Dyk Park Place at Hawthorne, NJ
The curriculum for the correspondence/four-day course has been approved by the New Jersey State Department of Health and is intended to thoroughly prepare you for the exam.
Course Overview:
The Basic Concepts/Philosophy of Assisted Living in New Jersey
The NJ Standards for Licensure for Assisted Living & Comprehensive Personal Care
How to Identify the Components of a Comprehensive Assessment Tool; The Assessment Process
How to Conduct & Document an Assessment Interview
The Scope of Services for Assisted Living
The Components of a Service Plan; How to Write a Service Plan
Shared Responsibility & Managed Risk; How to Write/Negotiate a Managed Risk Agreement
Components of an Effective Assisted Living Documentation System
Staffing Patterns/Responsibilities That Can Be Utilized for Assisted Living Facilities
The Role & Responsibilities of the Nurse in Assisted Living Facilities
Medication Administration as per the Regulations and the Nurse Delegation Act